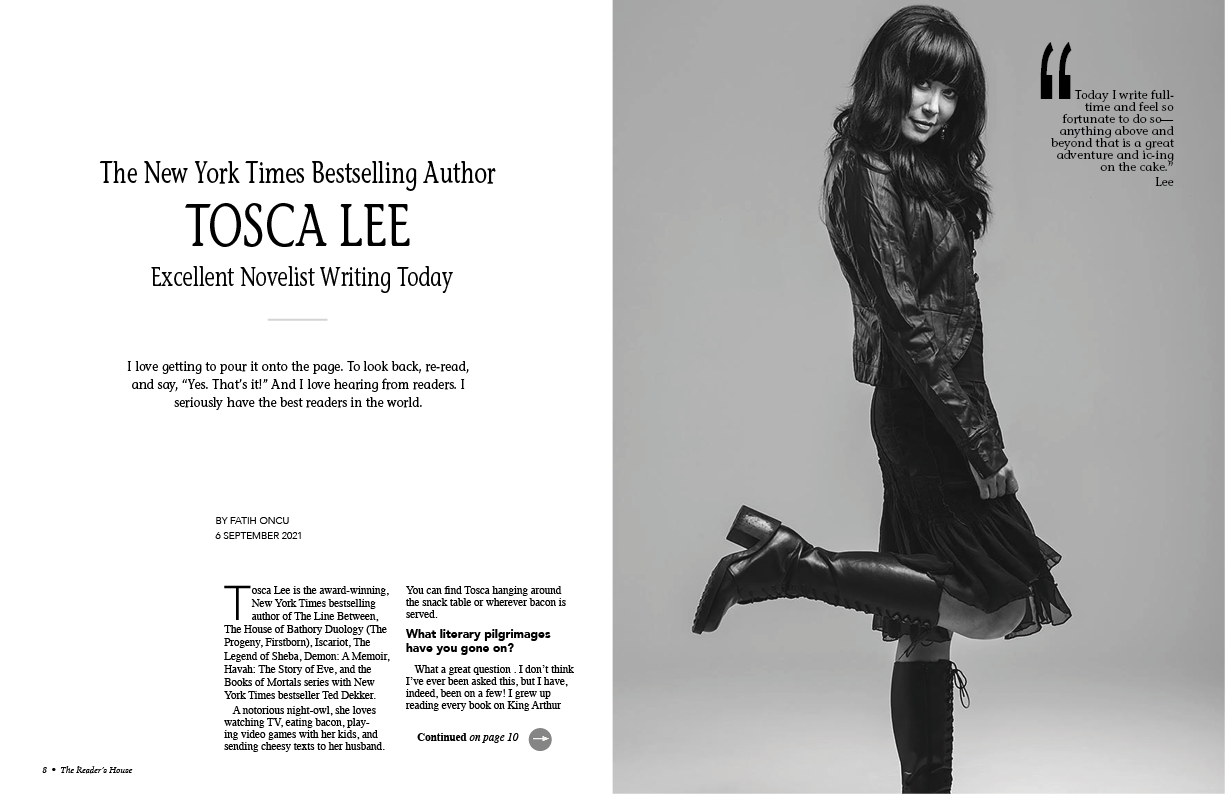 The New York Times Bestselling Author
Tosca Lee
Excellent Novelist Writing Today
I love getting to pour it onto the page. To look back, re-read, and say, "Yes. That's it!" And I love hearing from readers. I seriously have the best readers in the world.
By FATIH ONCU
6 SEPTEMBER 2021
Tosca Lee is the award-winning, New York Times bestselling author of The Line Between, The House of Bathory Duology (The Progeny, Firstborn), Iscariot, The Legend of Sheba, Demon: A Memoir, Havah: The Story of Eve, and the Books of Mortals series with New York Times bestseller Ted Dekker.
A notorious night-owl, she loves watching TV, eating bacon, playing video games with her kids, and sending cheesy texts to her husband. You can find Tosca hanging around the snack table or wherever bacon is served.
What literary pilgrimages have you gone on?
What a great question . I don't think I've ever been asked this, but I have, indeed, been on a few! I grew up reading every book on King Arthur I could get my hands on, so my first book pilgrimage included Tintagel, Glastonbury Abby, Camelford, and every King Arthur location or reference I could convince my parents to take me to during a family trip in 1984. Before writing my first novel (unpublished) about the Neolithic people of Stonehenge, I made another trip to Salisbury Plain while I was studying Economics at Oxford in 1989. I live in the U.S., but so many of my early influences are centered in the U.K. I think those early experiences set the stage for all the research trips I've taken since—to Israel, Hungary, Italy, Croatia, and others.
What is your writing Kryptonite?
Overthinking things, trying to edit too much while writing the first draft, and taking a day or more away from the manuscript while writing. It takes me about half the time I was away to get back into the flow of things—half a day for a day away, and a few days for a week. Longer than a few weeks is like practically starting all over again.
How did publishing your first book change your process of writing?
Publishing a first book and starting on the second can be a bit of a shock to the system. Suddenly you are aware that people are reading your work, and you may have a deadline now for that second book for the first time in your writing life. Having to block all of this out and get down to the business of writing can take some real willpower and mind tricks. This is why my number one rule of writing is to write as though no one will ever read it. It frees you up to create with freedom and takes the pressure off.
What was the best money you ever spent as a writer?
Paying for a good freelance editor to edit my manuscript before I ever submitted it to an agent. I still get my manuscript edited before turning it in to my publisher, knowing it will get edited again. But I do it because I learn each time, and it helps me turn in as clean and tight of a manuscript as possible right off the bat.
As a writer, what would you choose as your mascot/avatar/spirit animal?
Haha, probably either a monkey because monkeys strike me as very curious, and I am a very curious person. Or a barracuda, because once I try or start something, I don't give up easily.
How many unpublished and half-finished books do you have?
One (the Stonehenge novel, which will never see the light of day since it was my first and is very bad) and three-quarters of an unfinished fantasy novel—which I do hope to finish or revamp and finish at some point.
What does literary success look like to you?
This is a good question and one that I think changes often through the course of a career. For a long time, I just wanted to get a novel published, and then a second novel, and another. At some point, I hoped I'd be able to write full-time. Today I write full-time and feel so fortunate to do so—anything above and beyond that is a great adventure and icing on the cake. Whenever I complain about aspects of marketing or the industry, or pub dates, or whatnot, I have to stop and remind myself that I used to DREAM of having these kinds of complaints! There are other things I hope for—for one of the TV series based on my books currently in development to come to fruition, for example. But honestly, any time you can set a writing goal and accomplish it, you're being successful.
Do you view writing as a kind of spiritual practice?
I do, in the sense that exercise can feel like a spiritual practice. Sometimes you get great clarity and flow and energy. Sometimes you have to just push yourself through it.
How long were you a part-time writer before you became a full-time one?
For me, it was a couple decades after I'd written my first novel. But from the time of my first published novel in 2006, it was about four and a half years before I went full-time.
Do you hide any secrets in your books that only a few people will find?
Yes! I have always done this. Just recently, I decided to share one of the little Easter Eggs in my novel THE LINE BETWEEN. Anyone interested can read about it here:
Does your family support your career as a writer?
Absolutely. In that respect, I feel very fortunate that they supported this dream from the beginning.
Customer Reviews
"This is such a stunning, confident, and empowered picture of you! Love it. Congratulations"
Lauri Schoenfeld
"Nice. Congratulations on the cover and the hair!"
Randall Allen Dunn
Social Media Posts & Reviews
See Tosca Lee's Cover Posts on Social Media