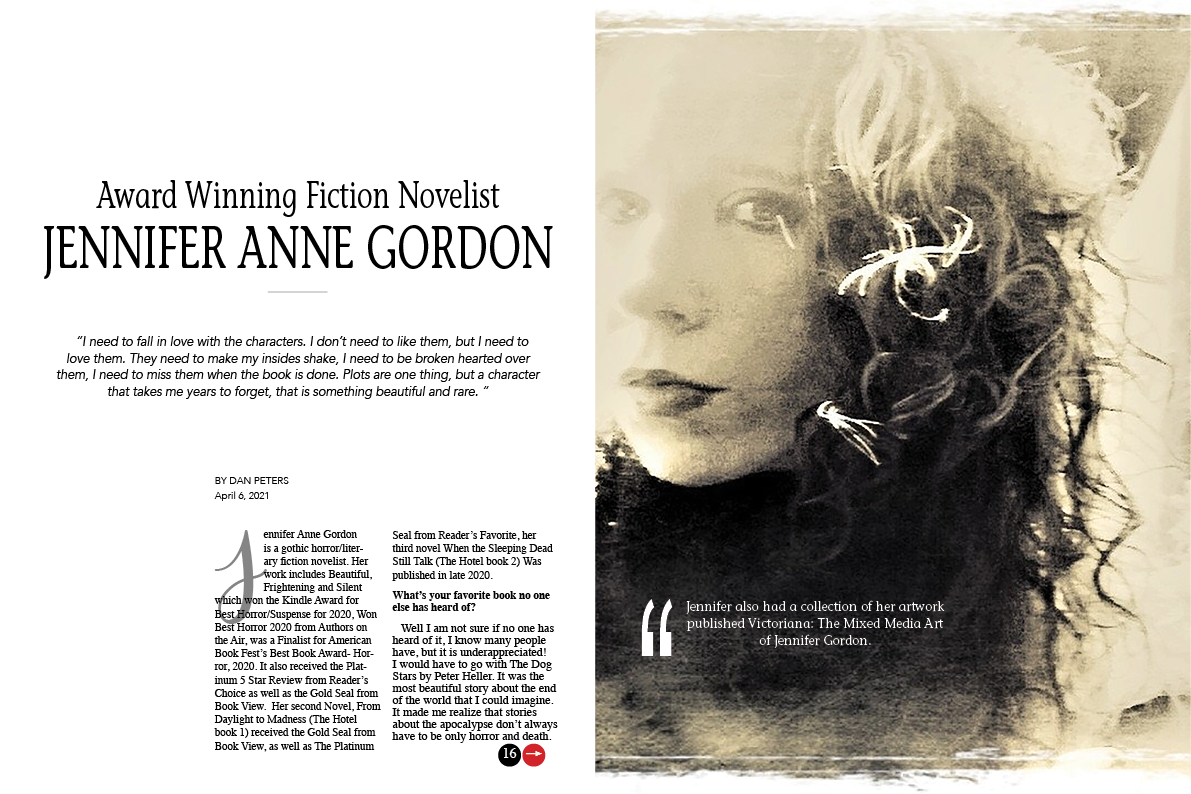 DAN PETERS
April 6, 2021
Jennifer Anne Gordon is a gothic horror/literary fiction novelist. Her work includes Beautiful, Frightening and Silent which won the Kindle Award for Best Horror/Suspense for 2020, Won Best Horror 2020 from Authors on the Air, was a Finalist for American Book Fest's Best Book Award- Horror, 2020. It also received the Platinum 5 Star Review from Reader's Choice as well as the Gold Seal from Book View. Her second Novel, From Daylight to Madness (The Hotel book 1) received the Gold Seal from Book View, as well as The Platinum Seal from Reader's Favorite, her third novel When the Sleeping Dead Still Talk (The Hotel book 2) Was published in late 2020.
What's your favorite book no one else has heard of?
Well I am not sure if no one has heard of it, I know many people have, but it is underappreciated! I would have to go with The Dog Stars by Peter Heller. It was the most beautiful story about the end of the world that I could imagine. It made me realize that stories about the apocalypse don't always have to be only horror and death. Sometimes they can be about the ephemeral nature of life, and the beauty of it as well. I think without The Dog Stars I never would have felt brave enough to write my novel Pretty/Ugly.
Which writers — working today do you admire most?
This list is really hard to narrow down, but I will go with Diane Zinna. Her novel the All-Night Sun was absolutely stunning. It was like reading a painting. It perfectly captured the grieving process in all of it's complex and heartbreaking beauty. I also really admire Sarah Langan, especially her latest novel Good Neighbors which was a mind-blowing experience. Dynamic literary horror! My third pick will be Carol Goodman. I have been reading her novels for so may years and each one has been close to perfect. A wonderful mix of classics and dark academia. Oh, and one final shout out to the master of literary fiction, Donna Tartt.
What moves you most in a work of literature?
I need to fall in love with the characters. I don't need to like them, but I need to love them. They need to make my insides shake, I need to be broken hearted over them, I need to miss them when the book is done. Plots are one thing, but a character that takes me years to forget, that is something beautiful and rare.
What genres do you especially enjoy reading?
I love to read Horror, Psychological fiction, thrillers, and literary fiction. The best books combine all of those things!
Who is your favorite fictional hero or heroine?
A tie between Anne of Green Gables, and Eleanor from The Haunting of Hill House.
What kind of reader were you as a child?
I was a voracious reader; I would devour anything I could get my hands on. The first books I ever binged were the Nancy Drew books, then Anne of Green Gables, the Little Women books. I then quickly moved on to tons of YA Horror, and then at an early age Stephen King, Dean Koontz, and tons of VC Andrews. Some of these were done in secret, as they were not really age appropriate!
If you could meet any writer, dead or alive, who would it be? And what would you want to know?
Shirley Jackson, and I would want to know about how her lifelong agoraphobia played a part in the way she wrote haunted houses, as well as how her fear shaped the way she created "outsider characters". Especially in her novel We Have Always Lived in the Castle. She did such an extraordinary job with the isolation and mystery surrounding the family—I have always wondered how much her own phobias played a part in this. The book reads not only like stunning Gothic Fiction, but also as an almost love-letter to the idea of never leaving the house.
What do you plan to read next?
I am very lucky as the host of a podcast, Vox Vomitus as well as Writers Showcase, that I am sent a lot of ARC copies of novels from some of my favorite authors. I usually try to read the work of whoever will be my guest that week. But…every once in a while you receive an ARC you are just dying to get your hands on. This is the case with the new Carol Goodman book "A Stranger Behind You". We have Carol on our show in August I believe, but this ARC copy is just calling my name. I have read all of her work and she has been a favorite of mine for years. I may not be able to resist it! I am also really looking forward to the third book in the "You" series by Caroline Kepnes. As I write this interview her latest book comes out next week, "You Love Me" and I have been waiting for this book for several years, so I know I will be reading that one at midnight on release day!
Are there any classic novels that you only recently read for the first time?
I recently read My Cousin Rachel, by Daphne Du Maurier. I always adored Rebecca and I felt like nothing could live up to that, but I was very impressed with My Cousin Rachel. It did not quite have the Gothic overtones that made me love Rebecca, but it still very much worked as a dark historical suspense, with a but of a love story as well.
I also spent time reading Jude the Obscure by Thomas Hardy, after becoming obsessed with the podcast "Obscure". This was also the inspiration for reading Frankenstein, which I am ashamed to say—I had never read.
What do you read when you're working on a book? And what kind of reading do you avoid while writing?
I adore reading Gothic Horror and Psychological Horror, probably more than anything, though I try to stay away from that when I am actively writing. There are certain tropes that a lot of Gothic or Horror writers tend to use over and over again, they're classics for a reason. The beauty of writing (and reading) is discovering new ways to use them, or new ways to inspire people to care about your characters. I never want to be needlessly comparing myself to other writers in my genre while I am writing. I think we are sensitive, and sometimes neurotic, enough during the creative process. I don't want to end up self-censoring myself.
I usually find myself reading a lot of thrillers and mysteries while I write horror, as well as memoir and literary fiction. I know there will come a time when I am writing in one of these categories and that is when I will be able to read a lot more horror, for fun! I find that I read a lot of poetry when I am writing as well. I find that little bursts of beautiful creativity are just what my mind craves.
What books do you find yourself returning to again and again?
There are really only a few books I have read multiple times. The Haunting of Hill House, and We Have Always Lived in the Castle I have read three times each. Anne of green Gables and Little Women I have read countless times. My Sweet Audrina by VC Andrews was at least three times as well. There are certain plays of Shakespeare's that I have read multiple times, sometimes with Shakespeare I will just read a specific scene. There are scenes I have read probably hundreds of times, just for the poetry of the words. I have read The Complete Works of Anne Sexton several times, and I have read the poetry collection Without by Donald Hall many times as well.
I realized I have revisited a lot of my favorites over the years in a different format. Sometimes I will listen to an audio book of a novel I have already read. This is especially true of MANY Stephen King novels!! There was a summer that my now husband and I spent hours every day reading out loud to each other, usually those were books he had not read yet, but I had. It was a wonderful experience to be able to re-live my love for a book with him as he discovered it the first time.
Which writer would you want to write your life story?
Oh, I love this question! As a New England native, I feel like I would need to get an author that understand really where I come from and what it is like to live here. Maybe even someone close to my age that would be able to express the reality of being a girl growing up in the 80's and 90's. I have a wonderful friend, Diane Zinna who I think she and I were separated at birth sometimes, so I think she would have the clearest voice to write my life story. Though, at the same time I would love to have an author like Jennifer McMahon to write it as well, as I think she would add that dark foreboding New England feel to it. Either of them!! (or I would need a time machine and I would love it is Sylvia Plath wrote my life story as an epic poem,)
What books are you embarrassed not to have read yet?
As a horror writer I am always embarrassed that I have not read any HP Lovecraft or Ray Bradbury. I think they are both staples to the horror genre and I never got around to reading any of them. Writers will have long talks about Lovecraft and debate the merit of the work, the history of the man. I just have to stare blankly and hope the conversation ends. That being said I have read work inspired" by Lovecraft, books like Lovecraft Country by Matt Ruff, and Providence by Caroline Kepnes. So, If I can get the conversation turned towards work inspired by…then I am usually all set.
You're organizing a party. Which two authors, dead or alive, do you invite?
I feel like if it's a party I would need to invite F. Scott Fitzgerald, and Zelda Fitzgerald. They would bring the party with them. I love Gatsby themed events so they would be perfect! I think I would need to invite Ernest Hemingway, because every party needs a cranky guy drinking whiskey in the corner. I would love to have Peter Straub there, because his novel Ghost Story is one of the scariest books I have ever read in my life, and I would love for him to bring that vibe to the party…someone there to scare the hell out of everyone. Henry Miller and Anais Nin would be great additions, and I would have to say Shakespeare—I would want him there in hopes that we would all inspire him to write a new play.
What books and authors have impacted your writing career?
I think as a writer almost every book I have read has impacted my writing career in some way. Every book works as an inspiration, even if you hate them.
The biggest influence for me would probably have to be Stephen King; he truly changed the horror genre. It went from being something that was still really considered pulp and made it part of our popular culture. The horror section would not be the same had it not been for Stephen King. The authors that shaped who I am as a reader are all ones that I devoured during my pre-teen and teen years. King, Dean Koontz, John Saul, Christopher Pike, VC Andrews—These were the authors that made me excited to go to the bookstore. I knew then that I wanted to do that for readers as well. I wanted people to get excited when one of my new books came out, I want them t want to talk about it to tell their friends!