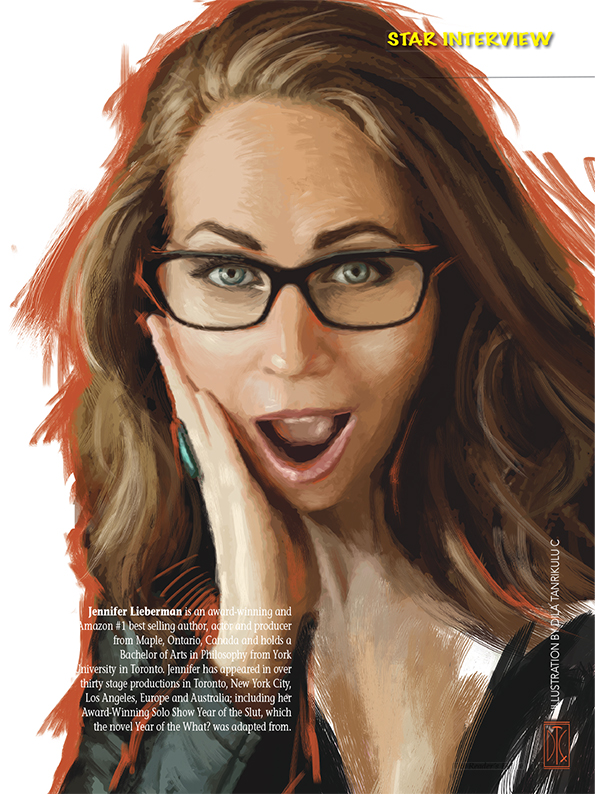 Award-Winning Author
Jennifer Lieberman
Amazon #1 Best Selling Author
"Because, if you are going to tell the truth, or something of value, you have to be willing to ruffle feathers, and rock boats, even if that means being misunderstood, and Jennifer Lieberman starts off her book with surfing waves..."
-Scribble's Worth Book Reviews
Jennifer Lieberman is an award-winning and Amazon #1 best selling author, actor and producer from Maple, Ontario, Canada and holds a Bachelor of Arts in Philosophy from York University in Toronto. Jennifer has appeared in over thirty stage productions in Toronto, New York City, Los Angeles, Europe and Australia; including her Award-Winning Solo Show Year of the Slut, which the novel Year of the What? was adapted from. In addition to her performance career she has penned a number of screen and stage plays including the wacky web-series Dumpwater Divas and the short films Leash and Details which both screened at the Festival De Cannes' Court Métrage among other international film festivals. Other books by Jennifer include Make Your Own Break: How To Master Your Virtual Meeting in Seven Simple Steps and Amazon #1 Best Seller Make Your Own Break: How To Record & Publish Your Audiobook In Seven Simple Steps.
What's the last great book you read?
The last great book I read was "I'll Take My Chances" by Gary Turner. It's a historical fiction based on Gary's family history and his Sioux heritage. It's a riveting and well written tale of history, adventure and romance. I can't wait to dive into parts 2 and 3. They're already waiting on my bookshelf.
What's your favorite book no one else has heard of?
I met Dennis Galloway on an author panel and was intrigued by his book, so I bought "The Pen: Sultan's Wisdom." I thoroughly enjoyed the story about an enchanted pen that takes its owner on an incredible time traveling saga. I highly recommend this fun and reflective read.
Are there any classic novels that you only recently read for the first time?
A few months ago I finally read Henry Miller's "Tropic of Cancer." I can see how it was considered a groundbreaking work for the time it was published, it was a fascinating glimpse into that period with Henry and his peculiar and vulgar lifestyle, the vast array of colorful characters, but I can't say I loved the book. It was in fact a challenge to get through in my humble opinion.
You're organizing a party. Which two authors, dead or alive, do you invite?
Tom Robbins and Tom Wolfe…discuss!
What genres do you especially enjoy reading?
I especially enjoy reading works that are either existential or surreal in nature. That's why I love Herman Hess, Angela Carter, Tom Robbins and Paulo Coelho. And a little romance never hurts either, for me, the more tumultuous the better.
What kind of reader were you as a child?
I had a lot of trouble reading as a child, I was quite hyper and found it a huge challenge to sit still, so I didn't read much, I avoided reading at all costs. I was an athlete and was much better suited standing on my head and flipping around at the gym, the first half of my life was devoted to training as a competitive gymnast. At summer camp I slowly got into reading around middle school age, that's when all the kids were into R.L. Stein books like "Goosebumps" and other teen/tween horror books. I guess that was my first experience actually wanting to read for fun. And then at around 16 I found Tom Robbins, and reading became more my thing. He blew my mind, as far as books go.
If you could meet any writer, dead or alive, who would it be? And what would you want to know?
Well, he's not a novelist, but indeed arguably the greatest writer of all times: Mr. William Shakespeare! If I could meet any writer dead or alive this would be that man. His work has inspired me as a writer, a performer and as a theater and film creator. I'm a total theater nerd! His stories have impacted hundreds of millions of people in dozens of languages over centuries and the relevance of his themes continue to endure the test of time. I would love the opportunity to chat with the Bard himself and delve deep into the imagination of such an incredible wordsmith and artist. I'd want to know where his passion came from, when he started writing, how theater became his life. While taking a Shakespeare course at The Royal Academy of Dramatic Arts in London I learned that Shakespeare invented over 1,700 words that are still used today. How cool is that?
What books do you find yourself returning to again and again?
The two books I find myself returning to most frequently are Herman Hess' "Steppenwolf" and Emily Bronte's "Wuthering Heights". "Steppenwolf" is such a surreal exploration of the human condition of man battling the beast within that I can't help but go back to it every couple of years.
As for tortured ghostly romance, does it get any better than "Wuthering Heights?"
I also read plays frequently for my performance work and find myself returning to both Mr. William Shakespeare and Mr. Tennesse Williams on a regular basis.
What books are you embarrassed not to have read yet?
I haven't read any of the Harry Potter books yet. I guess I'm waiting to have children and experience the magic with them.
What do you plan to read next?
I just started F. Scott Fitzgerald's This Side of Paradise. I was in New York at The Strand, my favorite bookshop in the Village, and couldn't walk away empty handed. For some reason the title was calling to me, so I grabbed it and a collection of love poems by Pablo Neruda.